Costa Michailidis
Co-Founder of Innovation Bound & Innovation Keynote Speaker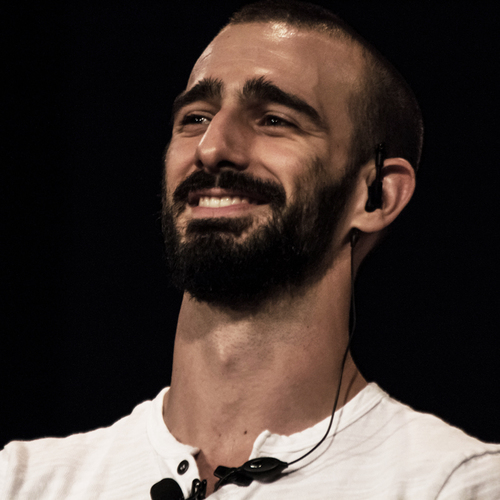 In today's disruptive business environment, Costa's fluency in creative thinking and adaptive execution make him indispensable to innovation projects.
In 2010, Costa co-founded Innovation Bound to cultivate creativity and innovation across sectors, and to solve new and meaningful problems in the world. He has organized innovation tournaments inside of Fortune 500s, guided NASA's astrobiology roadmap creation, worked on life science education reform, and contributed to many other projects in science and business. Costa made his first appearance at TEDx at the United Nations in New York in 2013, and continues to speak at conferences and companies on creativity, innovation, and entrepreneurship, in order to nurture the type of courage and curiosity that accelerate innovation and drive progress.
Costa has been finding ways to challenge himself and learn ever since he discarded the instructions of his first Lego set and put his imagination to the test. He has been a construction worker, building playgrounds and homes one brick at a time, as well as a web developer, an athlete, a coach, a writer, a professional storyteller (yes, that's a real job), and a local president with an international NGO. Costa's ability to innovate is predicated on his love for connecting with people and the joy he takes in building a deep understanding of a challenge within the context of a unique local reality.
Costa grew up in the world of competitive gymnastics. To this day, he still chalks up to swing high bar on Wednesday nights. If you spend enough time with him, you're sure to catch a glimpse of him flying through the air or standing on his hands.
Show Full Bio »
---
Interactive Keynotes
A personal journey into the heart of what makes us innovate
Costa's interactive keynotes focus on the attitude and habits most critical to innovation in today's disruptive environment.
Whether innovating in technology, science, business, or building something new from scratch as a startup founder, these talks will inspire, lend insight, and give practical steps individuals can take to become better innovators.
They're also wonderfully entertaining, and lots of fun!
Get Full Keynote Speaker Packet (PDF)
---
Op-eds & Other Insights
Casual yet insightful pieces covering creativity, innovation, and entrepreneurship
---
Live Events
The Internet is nice and all, but let's meet in real life sometime
Costa is a frequent speaker at conferences and events. We also host immersive innovation workshops, tournaments and other exciting events. Sign up to find out when we are hosting or attending events near you.
---
What People are Saying
Costa has the winning combination you look for in a speaker: passion, insight, and clarity. Since working with Costa, my team is inspired to think in new ways, and embrace innovation rather than run away from it.
Pierre Brun - BNP Paribas
Costa is living a purpose-driven life. He reminds us to look up and dream, and to consider the impact or value of what we are doing. He takes nothing for granted. He is a powerhouse of creative energy, and embodies the case for innovative solutions in business.
Oded Kafka - Con Edison
It's awesome! I love it! It's packed with so much information, great stories, and it's funny. The thing is, in public speaking, you don't want to throw jabs, and everything he's throwin' is a haymaker!
Cornell Thomas - Motivational Speaker
---
Innovation is the greatest expression of human courage.