Creativity, A National Security Imperative
We are facilitators and trainers for creative thinking, and we work with clients from across a diverse set of domains. As a result, we have the tremendous advantage, and joy, of learning from our interactions with each of our unique clients.
Recently, we had an opportunity to deliver a two-day workshop for faculty at the Marine Corps University in partnership with the Brute Krulak Center for Innovation and Creativity (BKCIC). The BKCIC supports scholarly research and curriculum development cultivating creativity in the profession of arms.
This was the first time that we were partnering with a branch of the armed forces and we had many questions. Major Timothy Riemann, who works at the Krulak Center, was our client and partner, and his commitment to bringing creativity to the Marine Corps University was truly inspiring and contagious.
In our interactions with Major Riemann we recognized that there was a great deal that we could learn and share which might be of use to other organizations we partner with. In this article we share some key learnings.
Creativity as a Must Have
Developing creative thinking skills requires effort and commitment. It requires time, resources, and a safe environment for practice and learning. In order for any organization or institution to truly foster creativity, there has to be a compelling answer to the question, Why does creativity matter to us?
When we posed the question, Why does creativity matter in the Marine Corps? to Major Riemann. His response was:
There are few endeavors like combat. Confusion, friction, danger, and uncertainty are just a few of the immutable characteristics of armed conflict. At the Krulak Center we are 100% convinced that the deciding factor in the next war will not be a piece of technology. The side with the best planes, rifles, or body armor will not necessarily be the victor or emerge as the winner. We believe that the most important weapon in the next war is going to be the six inches between a Marine's ears. The side that can operate successfully even in chaos and develop imaginative solutions to complex problems the fastest and most expeditiously will win.

At Marine Corps University, we don't do tactics or live fire training. Our job is to sharpen the minds of all the Marines through professional military education. To us, creativity is a national security imperative and must be planted, fostered, and nurtured in the minds of each and every Marine in uniform. Mental agility and creativity go hand in hand, and we believe that it is unrealistic to think that a Marine in combat will just suddenly, as if by magic, begin to come up with creative solutions to life or death problems. No, we have to start training for that long before any Marine sets foot in a combat zone.

A school setting is a safe, low risk environment where Marines, if the environment is right, can start to expand their minds, open their horizons, explore the unexplored possibilities, and try new ways of tackling challenging problems. If we create that environment here and we not only encourage it, but we REWARD it, then we have done what we can to make small but impactful shifts in how that individual might tackle future problems.
At the Marine Corps creativity can make the difference between life and death. It is not something that is nice to have, it is a must have!
In our experience, it is when an organization recognizes creativity as a critical need for their survival and growth that real change becomes possible. When everyone is aligned around the belief that creativity is essential instead of optional is when the change effort gains traction and has meaningful results.
Before starting on your creative change journey – start by asking yourself the questions:
Why does creativity matter?
What becomes possible as a result of creativity?
What do we stand to lose if we don't get creative?
Why should others in the organization care about creativity?
Sending the Message That Creativity Is Valued
Major Riemann had pin pointed the compelling reason why creativity mattered at the Marine Corps. His next step was to recognize, encourage, and reward the creativity that was already present. This is a low-hanging fruit that sends the message that creativity is important and when organizations draw attention and attach value to what it is that they are looking for, they are far more likely to encourage more of the same. We asked Major Riemann how they went about doing this at the Marine Corps University.
As a student at Marine Corps University twice before, I knew that the end of each academic year had an End of Year Awards Ceremony where awards for superlative works of scholarship and leadership are presented to distinguished students. I thought that if we (The Krulak Center) could create a similar award then the students would see that we really were serious about encouraging creative, novel, and perhaps unexplored ideas.

We tell people we want them to write well. The ones that do get an award at the end of the year. We tell students that leadership is important and therefore students that display exceptional levels of leadership throughout the year are recognized in front of their peers with an end of year award. If we wanted to show the students that we were REALLY serious about creativity, I thought it was critical that we created an award that recognized students that did it very well.

The Krulak Center was able to secure funding that could support an annually recurring award for four students. With a monetary prize of $500 be given to each winner (one from each of the four major schools within MCU). They also designed and gained approval for the plaques that will be given to the students by our Commanding General in front of the nearly 600 military officers and civilians attending resident schooling at MCU.

We worked to add this to the list of approved University awards. The good thing is that now that it is an approved item, we do not have to try to get it on the list each year. It is now a permanent fixture in the Awards Ceremony. (Marine Corps Association and Foundation has agreed to support this $2000 award annually.)
When we reflect on what worked here, there are a few key take-aways to consider:
How might your organization send the message that creativity is valued?
What might be all the ways in which your organization might recognize and celebrate creativity?
How might your organization send the message that creativity is a long-term commitment and not just this year's buzz word?
Change Takes Time
We asked Major Riemann what impact the award had with regards to promoting creativity at the MCU.
I would say that the response was somewhat ambivalent with the exception of the winners. They were extremely thankful and appreciative of this recognition of their specific talent.

However, more important than this year's students, my hope is that it will have an impact on next year's students. Now that this award is known and publicized, I hope that it encourages a student attending resident school to have the courage to offer an off the wall idea, try something new in a planner exercise, or at least have a conversation with a friend or fellow Marine about how interesting it is that people can be rewarded with a good chunk of money for being exceptionally creative.
There is no magic solution that infuses creativity into an entire organization in a few hours, days, or even weeks. It takes time to shift mindsets and culture within an organization. Major Riemann is realistic about the pace of change and also recognizes the value of planting the seeds that will bear fruit in the future.
How might your organization do the same?
We'd like to extend our congratulations to Major Riemann on receiving the Meritorious Service Medal.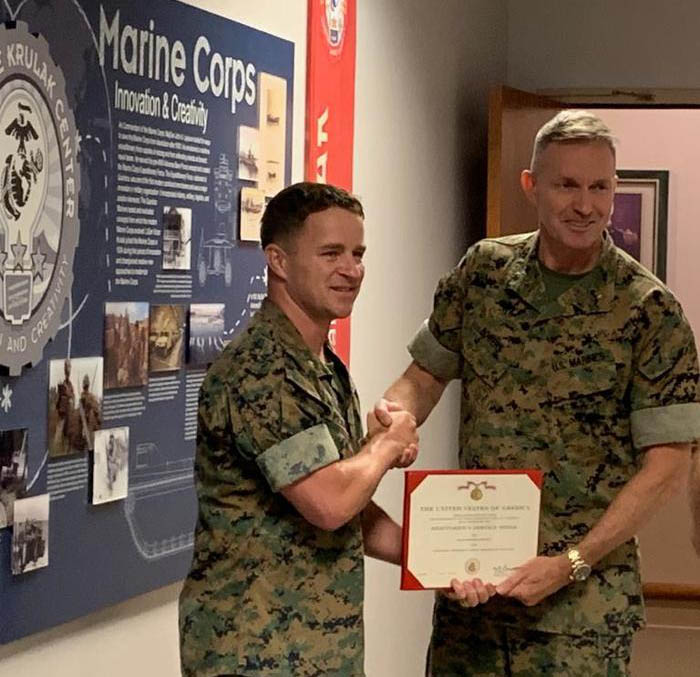 Major Timothy Riemann
Major Timothy Riemann has been an active duty Marine Corps officer for the last 14 years. He has deployed three times to Iraq and the south pacific region. Though he is an Amphibious Assault officer by military occupational specialty, he has held an eclectic mix of billets such as Instructor at The Basic School, battalion S4 officer in charge, staff secretary, and most recently, Operations Officer of The Brute Krulak Center for Innovation and Creativity at Marine Corps University. He is a graduate of the Marine Corps Expeditionary Warfare School and Command and Staff College. He is currently a student at The School of Advanced Warfighting in Quantico, VA. Major Riemann has a Masters Degree in Military Studies and will receive a second masters degree in Operational Planning contingent upon graduation from his current assignment. Major Riemann has three children, a beautiful wife, and resides in Stafford, VA. He is originally from Spring, TX.
Click to learn more about the Brute Krulak Center for Innovation and Creativity.
They're also a ton of fun to Follow on Twitter.