Project Possibly Returning January 2021
We're sending our cofounder to Haiti, along with a global team of volunteers, to build an Earthship school!
What's an Earthship?
Earthships are structures built in a style of architecture known as biotecture and pioneered by Michael Reynolds that address six aspects of sustainable living:
Food
Energy
Clean Water
Shelter
Waste Management
Sewage Treatment
These structures are beautiful, independant (can even be off the grid), and completely sustainable. They collect and clean rainwater, treat their sewage, generate electricity, grow food, and they're built from used tires, bottles, cans, and other trash! They're all kinds of innovative! Learn more about Earthships at www.EarthshipGlobal.com.
A Sustainable School
From January 6th to 31st 2020, Costa, our cofounder, as part of a group of volunteers from around the world will join an Earthship Academy in Haiti.
The mornings will be spent learning the concepts of biotecture and how to build Earthships, and the afternoons will be spent applying these learnings and building a school on a small island off the coast of Port-au-Prince called La Gonâve.
Local residents will also have access to the morning courses so they can learn Earthship concepts and adapt them for their local reality. We may be building one school, but the locals attending the academy can go on to build many more.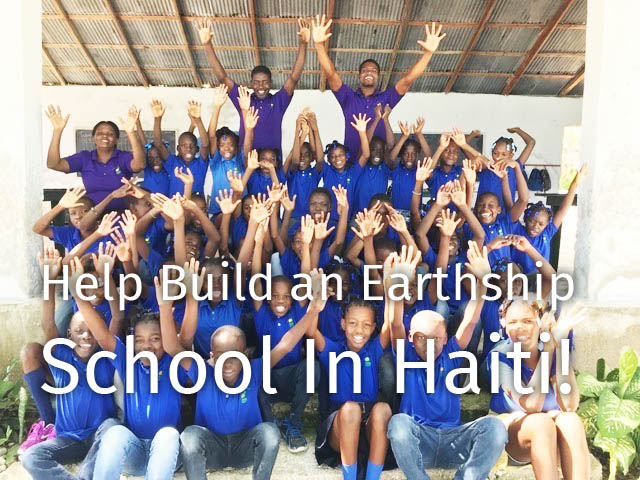 Scroll down to learn more about the program, how you can contribute and get involved, but first we'd like to ask for your help spreading the word.
Help Us Spread The Word
If you can think of anyone from Haiti, or someone with a passion for youth and education, or someone who cares about sustainability and the environment, please share this page with them!
Contributions
$0 raised so far
Group Goals
$500 - Haiti Earthship Report
We reached the $500 milestone!
Costa will produce and publish a report detailing learnings from the Earthship Academy and sharing stories about the impact we made on the kids and the school there.
This will be a way we can all learn about how to live more sustainably, and celebrate the contributions we made helping to build a school.
$1,000 - Podcasting The Haiti Earthship Adventure
We reached $1,000!
In addition to the report above, we will produce a podcast covering the experience and lessons learned in Haiti in more detail and going in depth on the topic of sustainable building and living, and learning more about the kids and the school we're building.
$3,000 - Webinar & AMA
If we raise $3,000 total, Costa will host a webinar and AMA (Ask Me Anything) for all the contributors of the project.
$5,000 - 3D Printer Donation
If we raise $5,000 total, we will donate a 3D printer to the school in Haiti. 3D printers are some of the latest tech, but are also extrordinarily flexible in their many applications, and quite repairable and maintainable. They may very well play a central role in the next way of development in emerging economies. Let's get these kids started early!
$25,000 - Filming The Haiti Earthship Adventure
If we raise $25,000 total, we will enlist an award-winning film crew to come to Haiti and film our project there as a way to share this story with the world on the web.
You'll be invited to the premier!
$100,000 - Building Another Earthship
If we raise $100,000 total, we will build another Earthship! No joke : ) We're not set on location yet, but we have begun conversations with potential partners in Greece and Costa Rica. We're also thinking of giving contributors like yourself one night's stay in the Earthship. We'll update this milestone as we get closer and have more clarity.